Land
4.8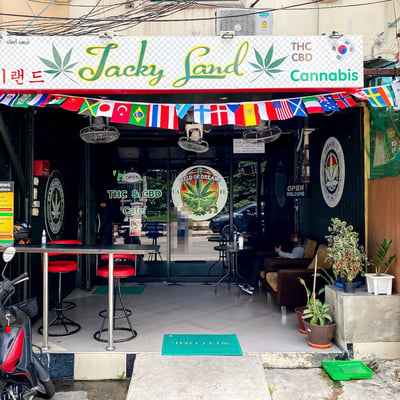 15+
Hours of operation
Click to leave a review
Click to claim/add business
Jackie Land is the best place in Pattaya. He and staff a knowledgeable about the products and they're amazing people too. Always greeted with a smile. Stop in and see for yourself.
(Translated by Google) woah… Since the boss is Korean, I was able to take it from Pattaya to Seoul (where marijuana is legalized) on one flight called Tystick. It was such a strange experience. It is a comfortable and friendly environment where it is easy to take time to come and relax. We sincerely recommend that you check it out when staying in Pattaya. (Jin. Taiwan third party evaluation) (Original) 워…사장님께선 한국사람이라서 저는 정말 타이스틱이란 항공편 하나로 파타야에서 싹 (대마초 합법화 된) 서울에 가져가게 됐습니다. 너무 신기한 경험이었네요. 시간을 내서 와서 릴렉스하게 되기 쉬운 편안하고 친절한 환경입니다. 파타야에서 체제 시 꼭 살펴보시기 진심으로 추천합니다. (진.대만 제3자 평가)

(Translated by Google) woah (Original) 워
(Translated by Google) Good place! Boss Korean! (Original) 好地方!老闆韓國人!
The Best Cannabis you can find in Pattaya!! very good service very good for chilling!
Awesome CBD cafe. You can chill out and enjoy a cool beverage with your choice of nug. Decent prices, friendly staff and good vibes. Sabai sabai Thanks to the crew at Jacky Lee Land 🙏
Best weed I smoked in Pattya, they have a variety. Great vibes, drinks and great people with good vibes!
(Translated by Google) Soilenky cannabis shop. It sells 7 to 8 types of cannabis, mainly indica. 1g 600-700 baht. This time I bought a hybrid Skunk XL of Indica and Sativa. You can also drink coffee or liquor while smoking cannabis in the store. There is also a table with a power outlet. It's like a cafe where you can work on your computer, take a break from cannabis, and relax. (Original) ソイレンキーの大麻販売店。インディカ種中心に7〜8種類の大麻を販売している。1g600〜700バーツ。 今回はインディカとサティバのハイブリッドSkunk XLを購入。 店の中では大麻を吸いながらコーヒーや酒を飲むことも可能です。電源コンセント付きのテーブルもあります。 カフェのようにパソコン作業したり、大麻を一服したり、ゆったりできるお店です。




4+
no more reviews
Nearby Shops With Products
The following shops have listed their product selection, and are close to Land.
All Nearby Shops