420 Cannabis Bar Ari
4.2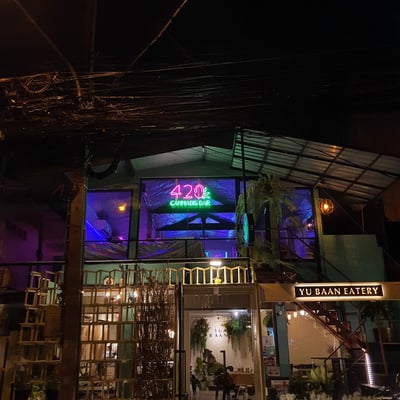 29+
Click to leave a review
Click to claim/add business
Let's go to the moon touching the start. All drinks is more than delicious!


สายเขียวเชิญทางนี้ ร้าน 420 cannabis มีเครื่องดื่มและของหวานที่มีส่วนผสมของกัญชา เคยมาร้านนี้ 2 หน ชิมชากัญนุ่ม ๆ (ร้านนี้จะมีชากัญ 10+ สูตร) จุดเด่นของร้านอีกอย่างคือบรรยากาศฮิป ๆ เก๋ ๆ โต๊ะเก้าอี้ ผนัง ทุกอย่างถูกฉาบด้วยสีเงินเมทัลลิค มีแสงสีวิบวับ ๆ และประดับประดาด้วยต้นกัญชา เป็น gimmick ของร้าน น้อง ๆ ที่รัานเป็นกันเองดี (Translated by Google) Green line, come this way. 420 cannabis shop has cannabis-containing drinks and desserts. Been to this shop twice to taste soft cannabis tea (this shop has 10+ recipes of cannabis tea). Another highlight of the restaurant is the hip and chic atmosphere. Tables, chairs, walls, everything is plastered with metallic silver. There are twinkling lights and decorated with marijuana plants, which is the gimmick of the shop.




3+
We ordered the 100% Cannabis tea, Peaberry reserve cold brew and Canabis croissant. Total amount is 435 B. The hot tea was similar to other plant teas like mulberry tea. It had a bit of a floral hint. The coffee was round and fresh. The croissant tasted green like a plant 💚, but is too oily for me. I like the tablecloths they are spacey. Its regretful that there's no cozy toilet. You should not expect to be high, it's just normal refreshing beverage.




1+
น้ำอร่อย มีหลายเมนู (Translated by Google) Delicious water. There are many menus.

The location is easy to find, you can even walk there from the Arai BTS station. The bar is located upstairs which has a simple but stylish interior. There is a fairly wide variety of drinks and goodies on the menu. I had the red velvet cake which I thought was delicious. The staff is very nice and the prices are reasonable for the type of service being offered. Alcohol is also available on the menu. This is a nice place to chill with others, and I will recommend it to my friends!
Nice!!

Newly open branch of Cannabis bar. Around 10min walk from the Ari BTS. There is also vehicle park across the street for the folks who are driving there. Rates are 20baht/hour. The brownies are tasty. It's very disappointing that we ordered few hot drinks and they brought in all cold ones.




บาร์กัญชา ถูกกฏหมาย เปิดใหม่ย่านอารีย์ ตั้งอยู่ชั้น2ของ yu baan eatery มีเครื่องดื่มหลากหลายไว้ต้อนรับ พร้อมกับคุ๊กกี้และ บราวนี่ สูตรของทางร้าน ดื่มแล้วผ่อนคลายตามสรรพคุณ อยากให้มาลิ้มลองกันนะค้า (Translated by Google) New legal marijuana bar opens in Ari area located on the 2nd floor of yu baan eatery There are a variety of drinks to welcome. Along with cookies and brownies, the shop's recipe Drink and relax according to the properties. I want you to come and try it.
🥰



no more reviews
Nearby Shops With Products
The following shops have listed their product selection, and are close to 420 Cannabis Bar Ari.
All Nearby Shops