Siamroll.og(cannabisshop)
5.0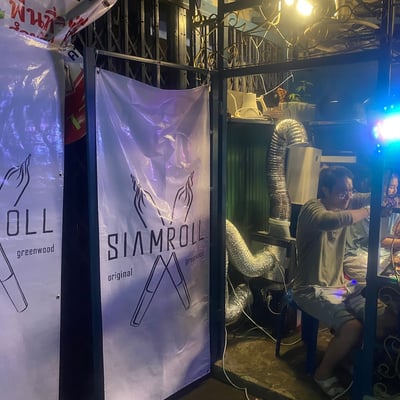 11+
Hours of operation
Click to leave a review
Click to claim/add business
Good stuff, friendly staff
Best service !!! Highly recommended 🫶🏻
Homegrown indoor for a great price! Come see him.


This is the one i would recommend. So good.


Good price 💸 Good product 🤪
กลิ่นดี ราคาดี (Translated by Google) good smell good price
ร้านนี้ของคุณภาพดี ราคาถูก คนขายเป็นมิตรแถมของให้บ่อยมาก ไปซื้อทุกครั้งแถมให้ตลอดเลย (Translated by Google) This shop has good quality products, cheap prices, friendly sales people, free gifts often. Go buy it every time and always give it a free gift.
Nice place in nice part of Bangkok with very friendly people Highly recommend

Great little shop reasonable price from Thai grower
no more reviews
Nearby Shops With Products
The following shops have listed their product selection, and are close to Siamroll.og(cannabisshop).
All Nearby Shops