BUCKY BURGER N BUDS
5.0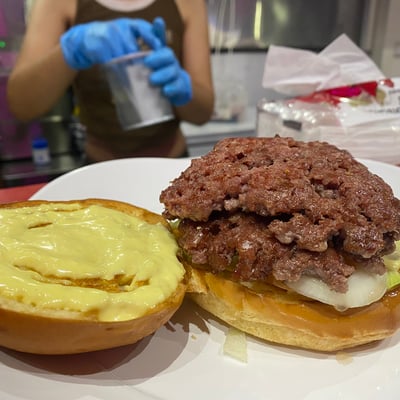 2+
Click to leave a review
Click to claim/add business
the best burger in pattaya from my personal experience. reasonable prices considering it is located by walking st.
Nice


Absolutely fantastic burgers all hours of the night, we've been back a few times already they are that good, just the quality and fresh ingredients make it a top notch burger




Incredible smash burgers, great fries and easy location.
As a food expert, I can confidently say that Bucky Burger n Buds in Pattaya is a must-visit destination for burger enthusiasts. From the moment I arrived, I was greeted with friendly staff and a warm, inviting atmosphere. But let's get down to the real reason you're reading this review - the burgers. I have to say, I have tried countless burgers in my lifetime, but the one I had at Bucky Burger n Buds was hands down the best burger I have ever tasted. The patty was perfectly cooked to my desired level of doneness, and it was incredibly juicy and flavorful. The toppings were fresh and expertly balanced, and the bun was soft and fresh. But what really sets Bucky Burger n Buds apart is the attention to detail and the commitment to quality. You can tell that every ingredient has been carefully selected and prepared with care. The restaurant takes pride in using locally sourced, organic ingredients whenever possible, which not only makes for a better tasting burger but also supports the local community. And it's not just the burgers that are amazing - the sides are just as delicious. I highly recommend trying the truffle fries or the onion rings. In summary, if you're looking for the best burger in Pattaya, look no further than Bucky Burger n Buds. From the exceptional food to the friendly service, this restaurant has it all. I can't wait to go back and try everything else on the menu. Trust me, your taste buds will thank you for it.
no more reviews
Nearby Shops With Products
The following shops have listed their product selection, and are close to BUCKY BURGER N BUDS.
All Nearby Shops