SHISHKI PLANET
5.0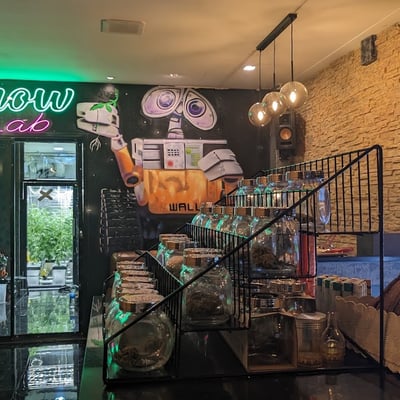 14+
Hours of operation
Click to leave a review
Click to claim/add business
My girlfriend and I came across this place completely by accident, but the groovy sign and interesting name made us stop by. And we had absolutely no regrets! Thanks for the fattest joint and cool atmosphere. You can also see here how cannabis grows inside. Definitely a must visit. 10/10



Im a Sativa guy, helps keep me focused;) So I like this place a lot. Alex has done a good job getting knowledgeable people about their product. He is friendly and engaging and it seems very genuine. Which is a professional thing to do. -The product is well grown, clearly has been cured, and clorophyll completely removed, which is nice for this manner of growing. -They rank their products in a realistic manner where you have the option of spending more or less. Some people don't want to spend a lot on this, even if they have money, and some do, even if they don't. They have options for all. -The big draw, however, is the beautiful upstairs work/hang out/eat/drink/play games area. It's easy to miss if you are just stopping through, but we'll be worth checking out -Everyone in here is well-spoken. New hire named Alex as well, young cat, seems like he will be a good fit. This is my Top 2 shop in the entire area.




2+
Cool place! Chill staff and high quality stuff.
Great place with lots of good strains. super chill environment owner is very friendly and also has a restaurant next door. You can have drinks here food snacks they have games also and a cool grow room to check out. They also have an upstairs area that has music. Pricing is reasonable also and a good selection.



Very cosy, friendly staff



no more reviews
Nearby Shops With Products
The following shops have listed their product selection, and are close to SHISHKI PLANET.
All Nearby Shops