Feelgood 13 | Best Weed in Pattaya
5.0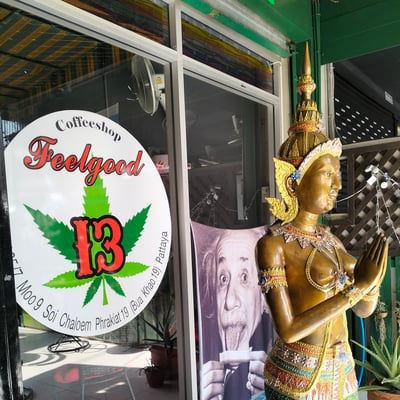 5+
Best legal weed shop in town
Hours of operation
Click to leave a review
Click to claim/add business
Best place to be in pattaya Don't miss it Or your trip is incomplete 🙌🙌
(Translated by Google) Real Cannabis Shop 🤤 (Original) 真正的大麻店🤤
Best Weed Shop in Pattaya! Great quality for a fair price. Very good advice from the lovely owner. I'll be back...!!




1+
Go here the best weed coffees and pre rolls, made with premium ingredients, Tany will look after everything you need and as a host will provide the highest service for your ganja needs. THE only spot for pattaya weed, can't recommend enough.
Probably one of the best weed dispensaries in Thailand. Excellent stuff for a really fair price. Drinks are available, the music is amazing. For getting stoned, this is the place to go.
Good weed, good vibes. Always get great service here. Dan (pronounced "Dawn") is the best!
Great place to sit and relax and smoke Nice people good value for buying weed Peace Out 🥷🥷🥷🥷
This coffee shop is one of the best of its kind and convinces with charm, a friendly team and an excellent selection of the best weed. This is the best location to escape the madness of Pattaya and spend an inspired evening. The weed advice is top notch, you get exactly what you need. Nice thing is that everyone can DJ themselves and put on their own music. If you are looking for a great place to get stoned, this is the place to be!
Best weed store in pattaya! The owners are just so friendly! Selection is great and they have various drinks if you're thirsty! Good music too.
สหายกัญพาฟินเว่อร์ + เฟรนรี่ +เพลงที่ใช่+เติมกัญได้ทุกรสทุกอารมณ์เติมกัญยาว+การันตีความแฮปปี้ได้ที่นี่เลย นะคะ ฟิวกู๊ด13 นะคะ *สำหรับเพื่อนสาว *สำหรับเพื่อนชาย ยินดีต้อนรับพ้องเพื่อนๆเราสหายกัญค่ะ (Translated by Google) Comrade Kanpa is very happy + friendly + the right song + Cannabis can be added to every taste and mood, add Kanyao + happiness is guaranteed here. Yes, Fei Good 13. *for girlfriend *for male friends Welcome to our friends and friends.




no more reviews
Nearby Shops With Products
The following shops have listed their product selection, and are close to Feelgood 13 | Best Weed in Pattaya.
All Nearby Shops