Ice Cream Candy is a unique strain that is sure to satisfy even the most discerning cannabis connoisseur. It has a 0% THC content, as well as a 0% CBD content.
Ice Cream Candy is a 0% sativa and 100% indica strain.
You can find Ice Cream Candy at "Yammi" Cannabis Farm & Private Store. in Pattaya.
Be sure to ask your local dispensary about availability, and don't forget to check out all of their strains and cannabis related products while you're there.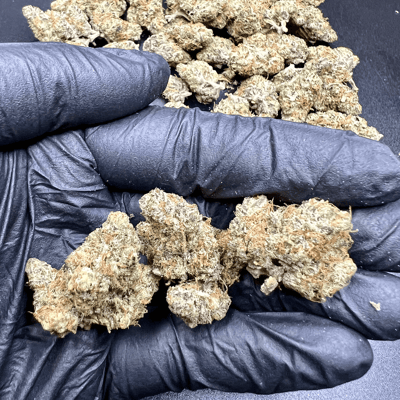 AAAA GRADE
100% INDICA
Name : Ice Cream Candy ( Dolato x Slurricane 23 ) Type : Indica dominant Seed bank: In House Genetics Ice Cream Candy is an indica-dominant strain with a sweet and creamy flavor. It's bred from the mild and relaxing Dolato and the more sedating Slurricane, resulting in what users describe as a refreshing buzz. Strong strain with a high THC up to 23%. More photo and video in our social : https://t.me/yammifarm/85
The following results showcase shops which sell flowers which are similar to Ice Cream Candy .

AAAA GRADE
100% INDICA
Effects : Relaxed, calm, uplifted Flavors : Berry, vanilla, mint

AAAA GRADE
100% INDICA
Effects : Sleepy, hungry, relaxed Flavors : Blueberry, berry, sweet

AAAA GRADE
100% INDICA
หอม เพลิน สายพันธุ์ต่างประเทศ ค่ายคอมพาว

AAAA GRADE
100% INDICA
เพลินพักผ่อน กลิ่นหอมเหมือนผลส้ม

AAAA GRADE
100% INDICA
INDICA

AAAA GRADE
100% INDICA
This indica strain comes from Barney's Farm in Amsterdam and clinched 2nd place overall at the 2009 High Times Cannabis Cup for the coffee shop and seed company. Bred from Afghan and Kashmir strains, this Kush beauty is a gift to the senses with her notes of vanilla, lavender, and a hint of citrus. Plants flower in 8 weeks and produce large, soft flowers that are light green with hints of orange. Feelings: Sleepy .Relaxed .Hungry Helps with: Stress .Anxiety .Insomnia